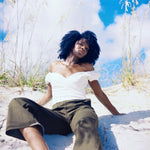 Did you know..
My first campaign for the brand was shot last year in July on Tybee Island
Photographer: @twoamjo
Model: @kimberlyjofficial 
Styling: Julianna @shee.bangs
It was a scorching hot day in South Georgia. We drove down 3.5 hours at 6am, got there as the sun rose, shot the campaign in a couple hours. We found random scenery like boats at dock and swings, and played around with some product shots. I'm so happy with this shoot! Thanks to the photographer for reaching out to me with the idea. He shot it on film. The uncertainness of the photos is what makes them beautiful. Check it out here!
These products are no longer available for purchase.